KingsIsle's 2019 Spring Decorating Contest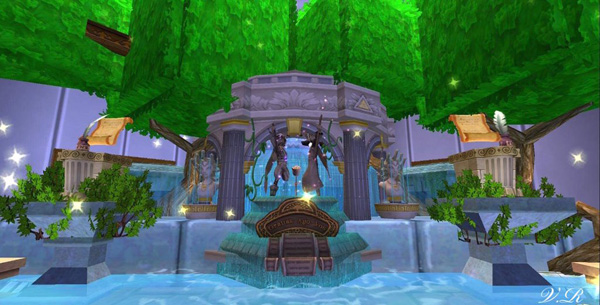 Happy Spring everyone! KingsIsle has announced their first ever decorating contest with some amazing prizes available for the winners. Don't play Wizard101? Don't worry because there is a decorating contest going on in Pirate101 also! You can also enter both if you even want, you aren't limited to just one contest. The winners will even be featured in March's KI Live and next month's Newsletters. Visit the contest's official forum post to talk about the contest and share your decorating tips!
Now that the contest has officially begun time to hunt in the Bazaar for some housing items and decorate the dorm room, apartment, or castle you always wanted or dreamed of. Find that perfect wallpaper and flooring then fill your home with furniture and decorations to your heart's content for a chance at bundles, crowns, and more prizes. Have fun with decorating and good luck!
How to Enter the Contest
Choose a Dorm, House, or Apartment to decorate. Ask other players for resources and advice if needed.
Pick a category to enter, then decorate until you can't decorate anymore. The fun of this contest is in planning where that fish tank will go or where the pets will roam around.
Once you're happy with the results, capture the best screenshot or video of your home and send it to us. Take your time – you have the entire contest entry period to consider the design!
Submit screenshots (MAX of 4 w/one that includes the UI!) or video (MAX of 1, 60 seconds or less) to community@wizard101.com.
Name the email Subject line: W101 2019 Decorating Contest Entry
Include your character name, account name, the category you want to enter your decorations in, and a title and description of your home. Tell us something unique or special about it, and why you decorated it the way you did. Please limit that description to 100 words max.
The Categories
There are selected categories you can choose to design around. Each of the categories will have 1 Grand Decorator and 2 Runner-Ups, unless otherwise stated below. This includes a 'Video Captured' category for videos, and a 'Best Overall' category:
Magical
Fun and light-hearted
Elegant and stylish
All Natural
Mysterious and strange
Happy Holidays
Video Captured
Simply Amazing (non-category)
The Prizes
The prize pool for this contest includes the Aero Plains Bundle along with crowns and the new Bubbler Music Player now available for sale in the crown shop.
1 Grand Decorator (Per): 20,000 Crowns + Aero Plains Bundle + Bubbler Music Player
2 Amazing Decorators (Per): 10,000 Crowns + Bubbler Music Player
5 Honorable Mentions (Total): 5,000 Crowns + Bubbler Music Player
The winners will be announced on March 28 on KI Live. They will be notified by email, and prizes will be awarded in advance of the show. After KI Live on the following day, winners and their screenshots will be posted on social media and included in the following month's newsletters.
Capture Tips
KI also left some helpful tips on how to capture your images or videos for your decorating entries. The button for taking a screenshot in-game is the Print Screen button but you can also use other programs like snipping tool and lightshot for better quality pictures.
Set your PC's graphics settings to high, and ensure the resolution is maxed (preferably 1920×1080 if you have the option).
For screenshot captures, even if the game runs slow at this point, all that matters for the contest is a nice still screenshot.
For video captures, videos must be no longer than 60 seconds.
Frame the shot for max emotional and "wow factor" impact. Consider lighting conditions.
Feel free to include some friends in the shot for added social flair.
Use Photomancy to remove the UI. Press the 'Z' key to bring up the menu. Or for manual screenshot capturing, press Ctrl+G to turn off screen icons for a cleaner look.
Be unique and show us something unexpected!
Submit your entry to community@wizard101.com. You can use an image sharing program, and for videos, you must use YouTube. Also, share it on social media using @Wizard101 and #Wizard101 during the contest period and we may retweet it!
Deadline to submit is Sunday, March 24 at 11:59pm CT. They will only accept one email per individual or group. You can submit your own entry separate from a group, but it must contain your own home and content. No reuse of submission materials!
Contest Rules
Entries must be received before 11:59 PM US Central time on Sunday, March 24, 2019.
If you are under 13 years of age, ask your parent or guardian permission to participate.
Include your Wizard101 character AND account names in the email.
One entry per account will be eligible. Any group efforts will only award the submitter.
Entries must be entirely original creations made by you.
Entries that use copyrighted or inappropriate material will not qualify.
A committee of judges will be formed at KingsIsle, and any tiebreakers will be resolved by the committee. Any disputes or disagreements in the community on who ultimately won will NOT be tolerated as an open discussion in the forums. Anyone attempting to subvert the contest in any way is subject to an immediate suspension and/or disqualification from the contest.
Inappropriate or vulgar entries are prohibited and will also result in immediate disqualification. Entries containing any of the following or similarly disparaging topics are considered inappropriate:
Disparaging race, gender, or group of people
Sexual content or references
Drug or alcohol abuse
Death or suicide of persons real or fake
Depicting the state of the game in a negative manner
NO PURCHASE NECESSARY. ONE ENTRY PER PERSON, PLEASE SEE COMPLETE RULES FOR OTHER RESTRICTIONS. THIS IS A SKILL-BASED CONTEST. VOID WHERE PROHIBITED BY LAW. AFFIDAVIT OF ELIGIBILITY / RELEASE OF LIABILITY / PRIZE ACCEPTANCE AGREEMENT MAY BE REQUIRED.