Ultimate Bravery's Alpha Launch @ Fansite Fest '20
In the DuelCircle Census this past May, we introduced the idea of creating a Wizard101 version of the League of Legends community-based Ultimate Bravery program. Due to community interest, we have greenlit the new project and have begun early stages of production. Over the next year, our goal is to have Ultimate Bravery become it's own open-sourced, web-based program with multi-platform support (mobile/desktop).
Today we are letting the community participate in the first alpha test of our new Wizard101 Ultimate Bravery program! (via the DuelCircle Community Discord, powered by ManderBot)
Note: Due to scheduling conflicts, there will not be a Periscope stream from the DuelCircle Twitter account during Fansite Fest. We hope to celebrate the Ultimate Bravery Alpha Launch on-air in the near future. We thank you for your understanding. 
---
Ultimate Bravery Builds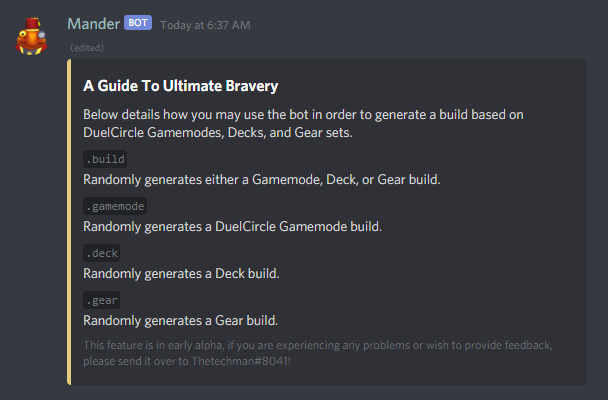 In this early Alpha, there are 3 types of builds. These are builds based on DuelCircle Gamemodes from our flagship tournaments, Deck specific builds, and Gear specific builds.
If you receive a DuelCircle Gamemode as your build, you must follow the instructions provided in the picture. Note: Some gamemodes cannot be played at this time, if you receive an un-playable gamemode then you may re-roll. Treasure Cards CAN be used in these builds, depending on the gamemode's specific instructions.
If you receive a Deck specific build, you will receive instructions on the spells you must add. Every deck specific build includes at least one damage spell. In these builds, 5 spells will be added to your deck. You must add the maximum amount of copies to your deck.
If you receive a Gear specific build, you will receive instructions on the pieces of gear you must add. Some builds will intentionally generate cosmetic only gear (a.k.a. gear without any stat whatsoever). Note: Generated builds may have items that cannot be purchased in the Bazaar (such as Arena Ticket or Crown Gear). In this case you may re-roll for a new build, if the item cannot be purchased with gold.
---
Ultimate Bravery Rules:
No turning back.

Once you get your build, stick with it no matter what. There is no do-overs.

Practice is for noobs.

If you have the courage to tread the horrible paths of ultimate bravery, then enter the ranked queue with your build and prove yourself.

Don't use pets.
TC's = Bad!

Unless given a gamemode as your build, no treasure cards for you!

Never surrender.

There is no fleeing in the arena. There is always hope.

Use whatever wand and deck you want.

In this early alpha, Ryan (Thetechboy) did not input wand or deck data into the program. This is technically his fault, but your benefit.
Example Build: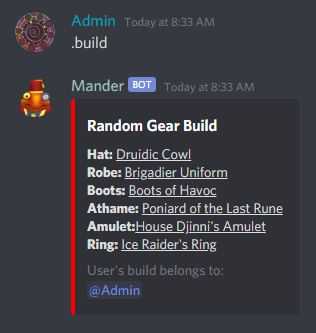 Note: You may use a wand and deck of your choice, however rule #3 of Ultimate Bravery doesn't allow pets.
---
Fansite Fest Contest Instructions [Closed]
The Ultimate Bravery Alpha Launch contest has now closed. Thank you to everyone who participated. 
1) Join the DuelCircle Community Discord server. Once you are able to access the full server, go to the #ultimate_bravery text channel.
2) Type .build in the #ultimate_bravery text channel to generate either a gamemode, deck, or gear build randomly, or you may choose a specific build type.
3) Screenshot your generated build from the #ultimate_bravery text channel.
4) Enter the ranked queue (or practice queue if you do not have a membership/crowns) and take a screenshot from the match.
5) Email your 2 screenshots along with your in-game name to contests@duelcircle.com, with the subject "Ultimate Bravery Contest" by 11:59pm ET on Sunday, 6/7/2020.
Note: Please keep in mind that the program is in early alpha. If you are experiencing any problems or wish to provide feedback, please send it over to Ryan (Thetechboy) via Twitter, Discord (Thetechman#8041), or Email.
9 different prize sets will be awarded by automated random draw of valid entries:
(1) Doomsday Krok Gauntlet w/ a separate 5,000 Crowns code | Winner: Vanessa Seacaster
(1) $39 Fantastic Fairytale Bundle w/ 5,000 Crowns Included | Winner: Brian Daybreath
(1) $39 Undersea Enchantment Bundle w/ 5,000 Crowns Included | Winner: Emma
(2) 10,000 Crowns | Winners: Alexander Owl and Thomas Heart
(2) 5,000 Crowns + Zafaria Safari Pack | Winners: Alex Battlespear and Alexis
(2) 2,500 Crowns + Druid's Hoard Pack | Winners: Blaine Strongwraith and Victoria Dragonblood
Prize codes will be sent via email during the week of June 8th, 2020.
---
As a reminder, If any code redemption issues occur, send an email to community@wizard101.com with the problematic code and your KingsIsle account username ONLY. KingsIsle does not require you to provide your password to them. Codes are for the North American version of Wizard101.