Celebrating San Antonio's Tricentennial – PAX South Charity Shirt Campaign benefitting Child's Play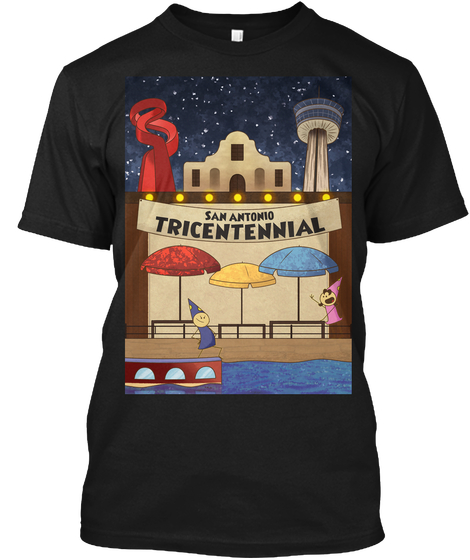 The shirt runs in either black or navy and is made with 100% cotton. You can purchase the shirt today for $15.99. We'll keep the campaign running through January.
Shirt Link: bit.ly/DuelCircleCharityShirt
100% of this shirt's proceeds will go to Child's Play. Child's Play has had a huge presence at PAX South since the very first one in 2015. Each year, many event attendees have donated thousands at the event and we couldn't be more grateful to help contribute. If you'd like to make a contribution directly, click here.
---
The Design
We'd like to personally thank our very own Marsi for creating our PAX South logo. This logo captures the spirit of San Antonio with a KingsIsle flair. Learn more from Marsi below on her inspiration behind the logo.
San Antonio is one of my favorite cities in Texas to go to with friends and family, whether it's going to a convention, enjoying the river-walk, or go sight-seeing! It's just an amazing place to go to when you want to have fun. That's what I tried to embody with my drawing – I wanted to fit in some of the enjoyable things I like to see or go to whenever I visit San Antonio. It's unfortunate that I couldn't fit everything into the drawing, but I know what I did fit in people will recognize and connect with what they see.
---
About Child's Play
Child's Play is game industry charity dedicated to improving the lives of children with toys and games in our network of over 100 hospitals worldwide. With their contributions, Child's Play purchases new consoles, peripherals, games, and more for hospitals and therapy facilities. These donations allow for children to enjoy age-appropriate entertainment, interact with their peers, friends, and family, and can provide vital distraction from an otherwise generally unpleasant experience.
To learn more about Child's Play, you can visit them here.
---
For more information about our PAX South festivities, check out our mega-post here!