December 2022 "Create Your Own Spellement Path" Contest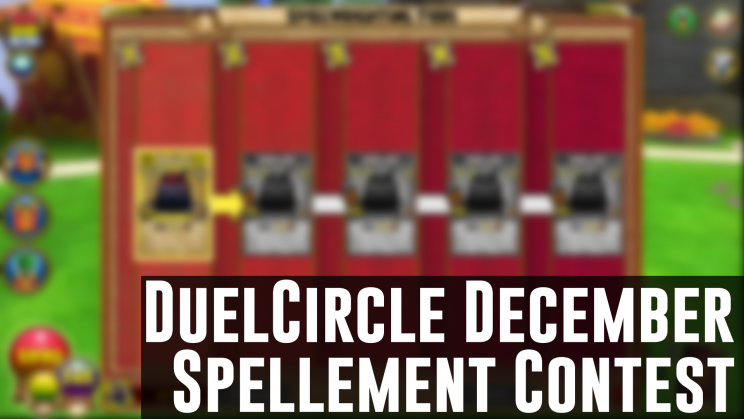 Thanks for participating in our December 2022 Spellement Contest. Check below for a list of winners and to see all submitted entries. Prize code emails have been sent to the account used during contest submission.
As a reminder, If any redemption issues occur, send an email to community@wizard101.com with the problematic code and your KingsIsle account username ONLY. KingsIsle does not require you to provide your password to them. Codes are for the Gamigo North American version of Wizard101. Redeem your prize codes at Wizard101.com/Promo!
---
Throughout 2022, KingsIsle has worked on overhauling the current Spellement system. Players currently have the choice to decrease/increase the power of a spell and its' cost or modify the nature of the spell itself through added features, by acquiring spellements and upgrading the base spell.
Lots of spells have undergone changes recently, for better or worse, but we want to know what would you do if you had the power to influence the game? We created this spellement contest as a fun way to earn prizes but to also share your ideas with Ratbeard, Artie, and the rest of the W101 developers.
For example, Frost Beetle has 2 spellement paths. One path is strictly damage based while the other introduces a shield that scales based on the tier, but increases the spell value to 2 pips.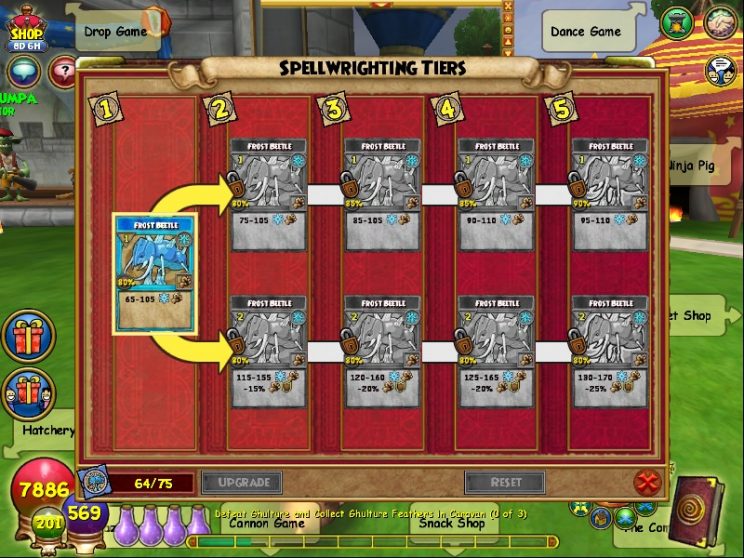 How to enter:
Pick one spell that you would like to add a spellement path to (or change it's current spellement path if it already has one) and create your own spell upgrades as if you had the power to influence the game.
Describe and explain why you made your specific spellement path and the upgrades for each tier. Write a small paragraph, write a MLA formatted essay, or even a novel since there's no word limit. (please don't make a novel)
Although not required, take advantage of the Legends of the Spiral or Final Bastion Spellmakers to illustrate your proposed spell changes and include them in your entry!
Send your Spellement Path Idea to contests@duelcircle.com with the subject line "December 2022 Spellement Contest". Please include your wizard's name so we can credit you if you win!
Entries must be sent by Friday, December 30th at 11:59pm Eastern Standard Time. Winners will be emailed during the week of January 2nd. All pieces will be judged by a select committee from DuelCircle Media, and KingsIsle based on creativity and presentation. 
Prizes will be awarded via creativity and presentation:
1st Place: $39 Peppergrass Glen Bundle (w/ 5,000 Crowns) + Permanent Winterglide Skates Mount | Winner: Brian Waterspear – View their entry here!
2nd Place: $39 Catmandu Sanctuary Bundle (w/ 5,000 Crowns) + Permanent Winterglide Skates Mount | Winner: Tara Stardust – View their entry here!
3rd Place: 2,500 Crowns + 1 Mega Snack Pack | Winner Julia Sunwielder – View their entry here!
To view all of the contest entries, click here! Thanks once again to everyone who submitted an entry.
---
DuelCircle Media is an official KingsIsle fansite that covers game news, tips and tricks through informational guides, interviews among community members and developers, not to mention flat out fun things for everyone. We create content on multiple platforms whether you're someone who likes articles, short and long form videos, podcasts, or livestreams. Check out DuelCircle Competitive during the Spring and Fall seasons for our official high-stakes community PvP tournaments!
KingsIsle Entertainment, established in 2005 and acquired by gamigo group in 2021, is a proven MMO hit-maker with 50+ million registered users across the two MMOs Wizard101 and Pirate101 with vibrant and strong communities. Since its foundation, Kingsisle has devoted itself to family-friendly gameplay, and has built an audience that reaches from pre-tweens to their grandparents. The award-winning game Wizard101 is currently in its 14th year and Pirate101 is in its tenth. For more information about KingsIsle Entertainment, check them out here! For more information about gamigo group, check them out here!