TwitchCon San Diego 2022 Giveaway Announcement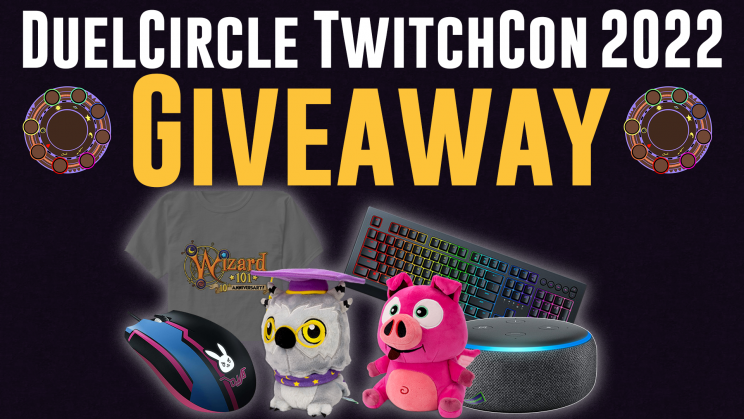 Since 2019, DuelCircle Media has always strived to bring the community together in-person at events such as SXSW Gaming in Austin, TX and PAX South in San Antonio, TX. Over the years we've made lots of memories with the KingsIsle community in-person.
In January 2019, we threw a mini-party with some community members and hosted a game night livestream. In March of 2019, a few members of our leadership team attended SXSW alongside KingsIsle Developers to hold a small casual meet and greet. In January 2020, DuelCircle Media celebrated our 5th anniversary by holding a large-scaled event in Downtown San Antonio with notable guest speakers, games, and of course MSPaint Manders IRL.
Even though the COVID-19 pandemic put a damper on event plans, we're glad to see the return to in-person events again. With the loss of PAX South in San Antonio, we felt that it would be a good time to broaden our horizons to new cities and new conventions. Everyone loved PAX South because it was the perfect convention for those who have never attended one before. It was also the perfect middle spot for people from the West and East coasts. Plus, the proximity to Austin allowed for KingsIsle to have a heavy in-person presence.
We learned quite a bit during our last rodeo in San Antonio and we can't wait to host another large-scaled event again for the community, wherever that may end up being in the next couple years or so. TwitchCon 2022 in San Diego, California was a new but familiar and welcoming experience in a post pandemic world. It was extremely fun to go out again and meet old and new friends from the community even though DuelCircle Media took a casual approach to the event.
While we couldn't formally attend TwitchCon San Diego, we wanted to bring a piece of the convention TO YOU at home!
Earlier this month, we informally went to San Diego for @TwitchCon and we wanted to bring a piece of the convention TO YOU at home!

Retweet this tweet and give us a Follow for a chance to win a massive prize pack including a @Razer Keyboard/Mouse Set, @Wizard101 merch and more! pic.twitter.com/juRZ3qz7vr

— DuelCircle Media (@DuelCircleMedia) October 24, 2022
Retweet the post above and follow @DuelCircleMedia for your chance to win a Razer Keyboard and Mouse set, a Twitch Oversized Mousepad, an Amazon Echo Dot, a Wizard101 Gamma and Piggle Plushie (with the in-game codes), and a Wizard101 10th Anniversary T-Shirt (XL).
Plus, we're also hooking the winner up with 20,000 Crowns, a $20 KingsIsle Kroger Pet Jewel Card, a $39 Sky City Bundle, a Permanent Skateboard Mount and ALL 4 Skatepark Bundles, the Glorious Hero's Attire, Subscriptions to Discord Nitro and Xbox Game Pass Ultimate, and so much more. There's over $450 USD in physical and digital prizes!
This is by far, the biggest giveaway we have ever hosted and it all goes to one lucky winner!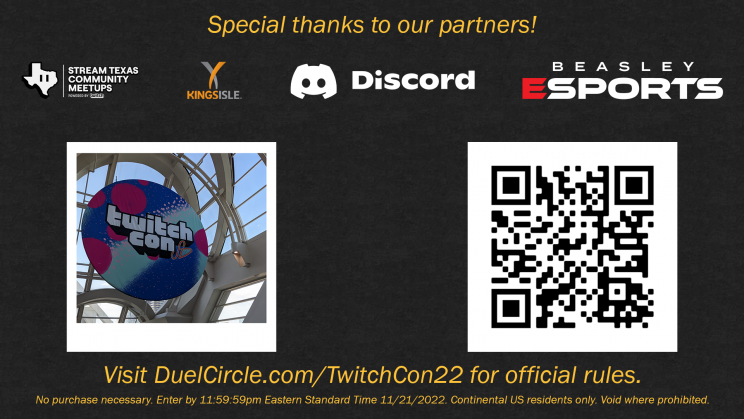 No purchase necessary. Enter by 11:59:59pm Eastern Standard Time 11/21/2022. Continental US residents only. Void where prohibited. See official rules for full details by clicking here.
---
Special thanks to our partners who have graciously supported DuelCircle Media over the years and provided these awesome prizes!
Stream Texas (Powered by Twitch) is a not-for-profit community run organization that focuses on facilitating meetups and business opportunities for Texan streamers, as well as connecting viewers and content creators. Their mission is to provide a safe and healthy environment for the gaming community to collaborate and network. They hold chapter meetups in Dallas/Fort Worth, Austin, Houston, and San Antonio! For more information, check them out here!
KingsIsle Entertainment, established in 2005 and acquired by gamigo group in 2021, is a proven MMO hit-maker with 50+ million registered users across the two MMOs Wizard101 and Pirate101 with vibrant and strong communities. Since its foundation, Kingsisle has devoted itself to family-friendly gameplay, and has built an audience that reaches from pre-tweens to their grandparents. The award-winning game Wizard101 is currently in its 14th year and Pirate101 is in its tenth. For more information about KingsIsle Entertainment, check them out here! For more information about gamigo group, check them out here!
Discord is the easiest way to talk over voice, video, and text. Discord gives people an invite-only space for their communities and friends, letting them have conversations in a very natural or authentic way. Discord is home for communities of any size but is most widely used by small and active groups who talk regularly. For more information, check them out here!
Beasley Esports is the esports and gaming division of Beasley Media Group, designed to deliver impeccable cross-platform esports content, events and experiences that fuels the video game and esports industry. Beasley Esports competes in Overwatch as the Houston Outlaws, and in Rocket League as Team Axle. Beasley Esports also operates CheckPoint XP, a news media site covering all things esports and gaming! For more information, check them out here!
---
DuelCircle Media is an official KingsIsle fansite that covers game news, tips and tricks through informational guides, interviews among community members and developers, not to mention flat out fun things for everyone. We create content on multiple platforms whether you're someone who likes articles, short and long form videos, podcasts, or livestreams. Check out DuelCircle Competitive during the Spring and Fall seasons for our official high-stakes community PvP tournaments!