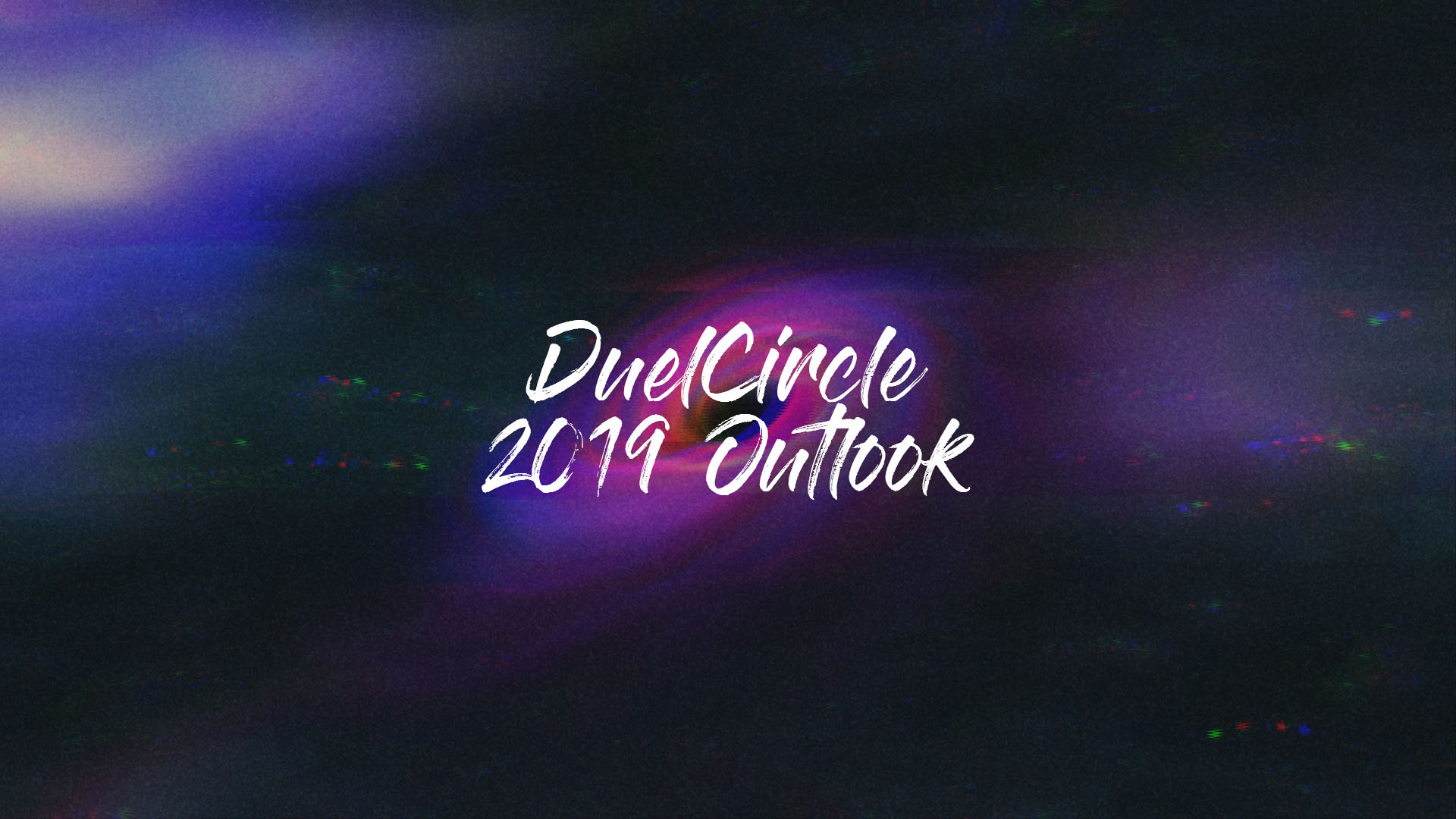 DuelCircle in 2019 as an Official KI Fansite
Hi there. This is Mike. Those of you may know me as @MikeFirehammer on Twitter. I am the DuelCircle lead organizer. First and foremost, I want to personally thank everyone for your support over the past few years. Whether you've supported the site since the first Clash tournament in 2015 or have just recently supported our work, we appreciate you. For those of you who may be new to the site, we want to welcome you into this new and exciting chapter for us.
If you didn't hear the news, we're now an official KI Fansite for both Wizard101 and Pirate101, as well as KI's mobile game lineup. Although we received the news prior to PAX South, here's the clip from January's KI Live.
One thing we'd like to do a better job of is to let you know what we're thinking when it comes to our priorities and what we're working on. A lot of things are in progress at any given time and I can't talk about everything. Our plans may change over the course of the year but still, I'm excited to give you more visibility into our 2019 outlook.
For 2019 we're preparing DuelCircle for our next stage of growth, by doubling down on our commitment to long term planning and elevating the overall community experience. We care about the details in each and every project that we take on as a site. We pay attention to every single little detail because we know our audience, also pays attention.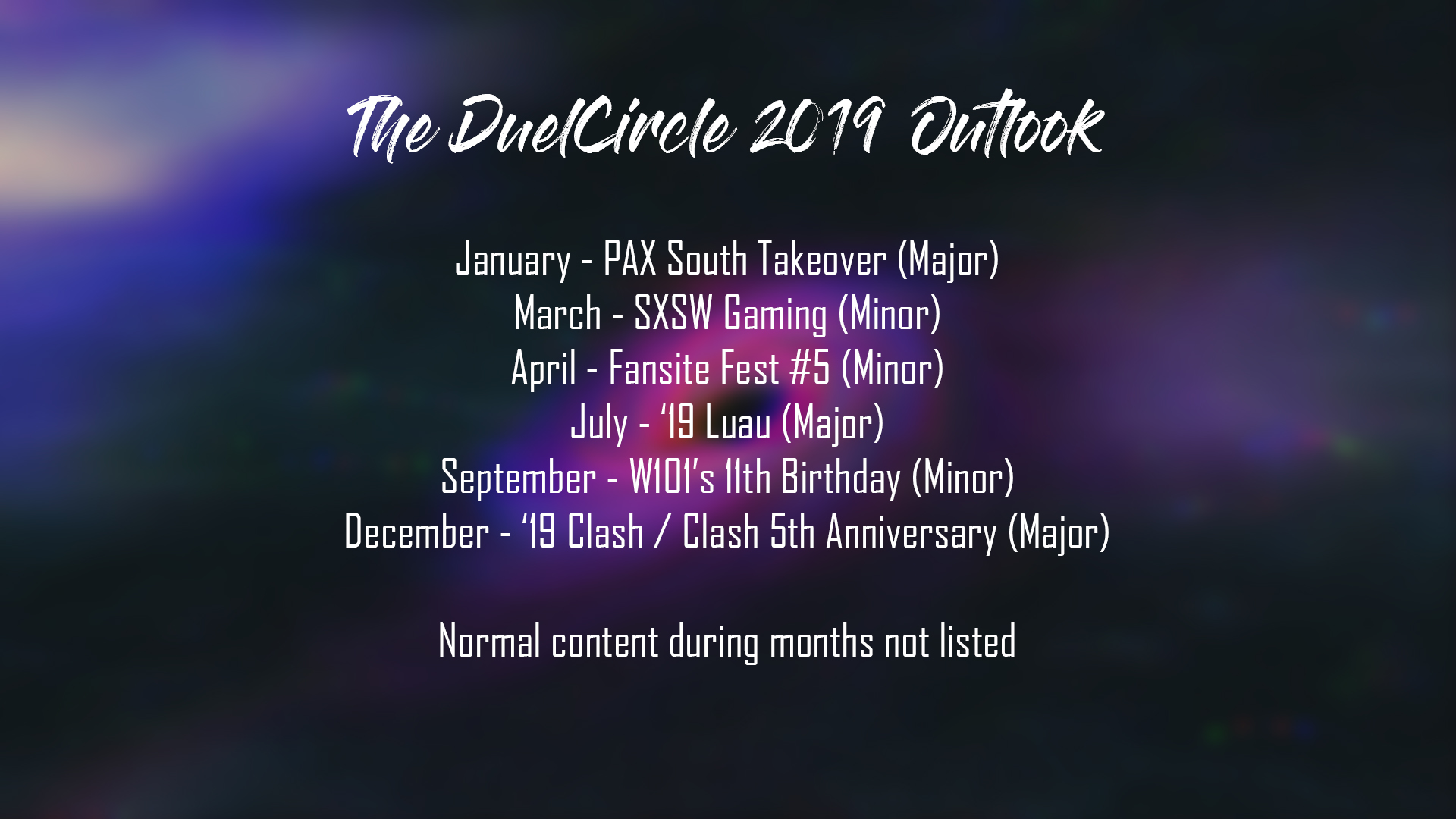 Our overall plan for this year is to continue hosting our major semi-annual tournaments, host minor events during the Spring through the Fansite Festival and during the early Fall during Wizard101's birthday month while still producing content throughout the year as well as continuing our new era of IRL engagement.
---
 The current state of DuelCircle

2018 was the first year where we brought back the 1v1 Luau summer tournament as well as hosted our usual Christmas Clash winter tournament. We just recently completed our winter tournament and are now looking back at our tournaments as a whole. There has been an amazing amount of feedback from both our gameday tournament team, our participants, and viewers.
We want to focus on holding fun, yet competitive tournaments that are as balanced as possible. We're in the process of overhauling our entire tournament system but we want to make sure that we make the right decisions with the direction of our tournaments. Basically, we're willing to do anything if it's justifiable.
Although we'll definitely be producing a few more articles in the near future answering some of your questions and going more in-depth, right now we're aiming to use our summer tournament as a testing ground, as well as potentially using the Fansite Festival as a way to get your feedback on certain things for our tournaments.
---

Last year, we began to rebuild as a site in order to produce content for the community alongside hosting our flagship tournaments each summer and winter.
We've mainly produced content specifically based on new features in the game, internal behind-the-scenes features, and of course the casual meme articles.
For 2019, our focus is to continue producing content for the community that everyone will relate to and enjoy overall. We also want to produce content that allows for the community to get engaged more with each KI game and spark a conversation.
We've been asked for a very long time to make content about the current state of the meta in both Wizard101 and Pirate101 and we're happy to announce that our content team will be beginning a quarterly series for each game.
The DuelCircle Organizers have also been wanting to produce some special unique content based on our own interests in the game. Later in the year, we'll be releasing another series specifically about pets in Wizard101, as well as a special speedrunning series made by Ryan. We have some other intriguing ideas in the works for articles but if you'd like to see a certain topic, let us know in the comments, email or on Twitter.
We're also going to continue working on our other content such as the Beyond the Spiral Podcast, youtube specific things such as the infamous tournament montages and more.
---

Last month, we recently went into uncharted territory by leading the effort into our PAX South initiative. Now that it's been a month since then, we're gonna be slowly discussing our motive and goals, as well as discussing how we plan on improving the overall experience for everyone.
Although there will be members from DuelCircle's organizational team at SXSW Gaming in Austin next month during Spring Break (March 15th-17th), we're be prioritizing our overall efforts into PAX South for now. Our goal is to make this sustainable each year and we hope that our transparency throughout 2019 will better benefit the community.
If you are at SXSW Gaming though, you can meet myself, Crusader Kyle, and MysticShadows at the "How to Build and Maintain Online Game Communities" panel with Professor Falmea (Leah Ruben, Senior Producer of MMO Content at KingsIsle) on Friday, March 15th at 3:30pm in Room 9C. We have some leftover DuelCircle Buttons and Code Cards from PAX South to give away!
We're in the beginning planning phases for the next PAX South, we've listened to your feedback and we'll be discussing things more in-depth after SXSW Gaming next month. As far as our PAX South specific content, we'll be releasing it together alongside any minor content revolving around SXSW Gaming.
---
Towards the end of the year, we plan on formally introducing something that we've been calling internally: "DuelCircle 5".
What is DuelCircle 5? Basically, to sum it up, it's a year-long initiative starting prior to this year's Clash tournament celebrating our remarkable 5-year history as a site. Although we haven't even officially reached our 4th birthday next month, we're already planning for one of the craziest years yet.
We'll be producing specialized content specifically relating to our 5-year history, as well as having this be our centralized theme for the 2019 Clash and 2020 Luau tournaments. alongside what you'd normally expect from DuelCircle.
---
2019 is on track to be an amazing year for DuelCircle. We're continuing to invest in the future of our site and can't wait to share many more exciting announcements in the months to come. As always, we want your feedback on our plans. Thanks for reading and we'll see you in the spiral.