The 20/20 Fiesta Experience @ PAX South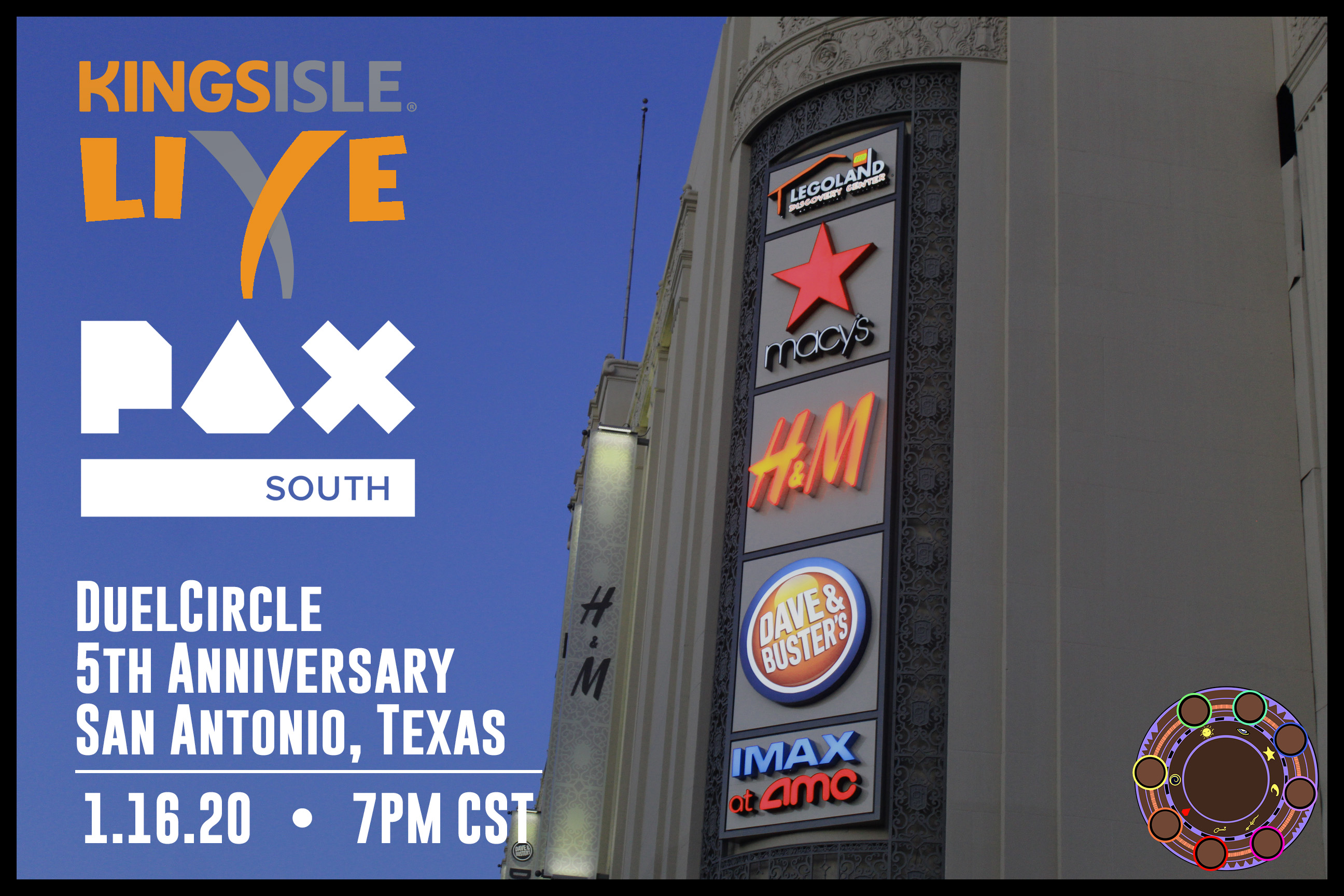 Deep in the Heart of Texas, in Historic San Antonio, DuelCircle is proud to announce our return to PAX South this upcoming January.
As the countdown to PAX South continues, be sure to check back for updates. For media inquiries, please contact media@duelcircle.com.
---
What is PAX?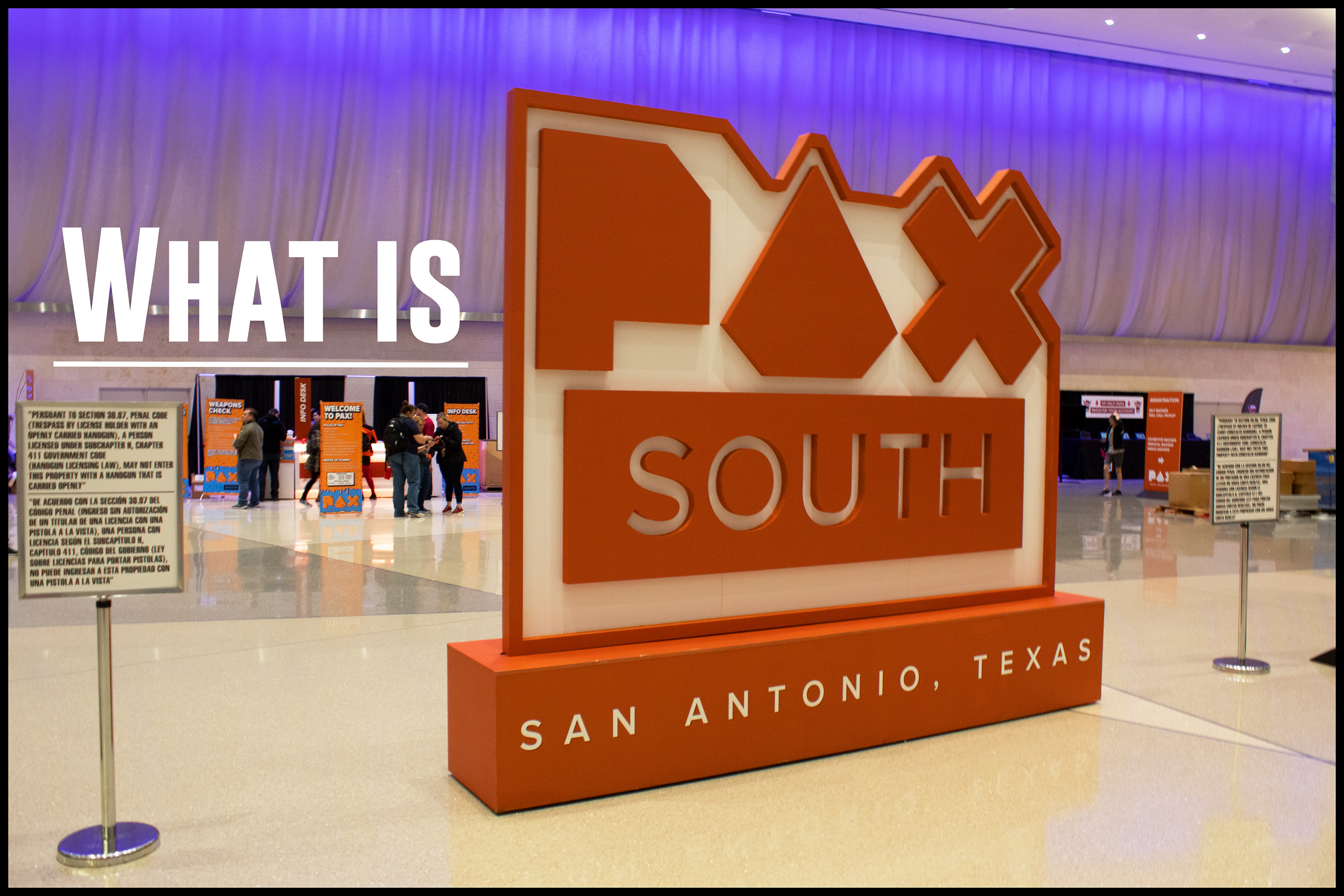 Created in 2004, the Penny Arcade Expo (PAX) is one of America's largest gaming conventions. By 2014 PAX had grown to the point where you could experience the show from Seattle, Boston, and even Melbourne, Australia. In 2015, the first PAX South was held in the alamo city as a way to bring the show to people who didn't live on the west or east coast. This welcomed a diverse group of gamers to a three-day celebration of gaming and the culture surrounding PAX.
2020 marks the 6th PAX South to occur in San Antonio. Over the past few years, members from the community have come together as a collective group of friends meeting up and experiencing what the show has to offer. This city, as well as PAX South, share the values that we hold true to ourselves and as a site. DuelCircle and TheUntoldSpiral in 2019 made history by being the first sites to hold a community-wide meetup.
Badges for PAX South are still available and you can buy your own PAX South badge at this link. 3-Day badges are priced at $95 while single-day badges are $45.
You can find hotel and travel information at this link. Penny Arcade works with hotels downtown to provide discounts to attendees.
---
DuelCircle's 5th Anniversary Fiesta Party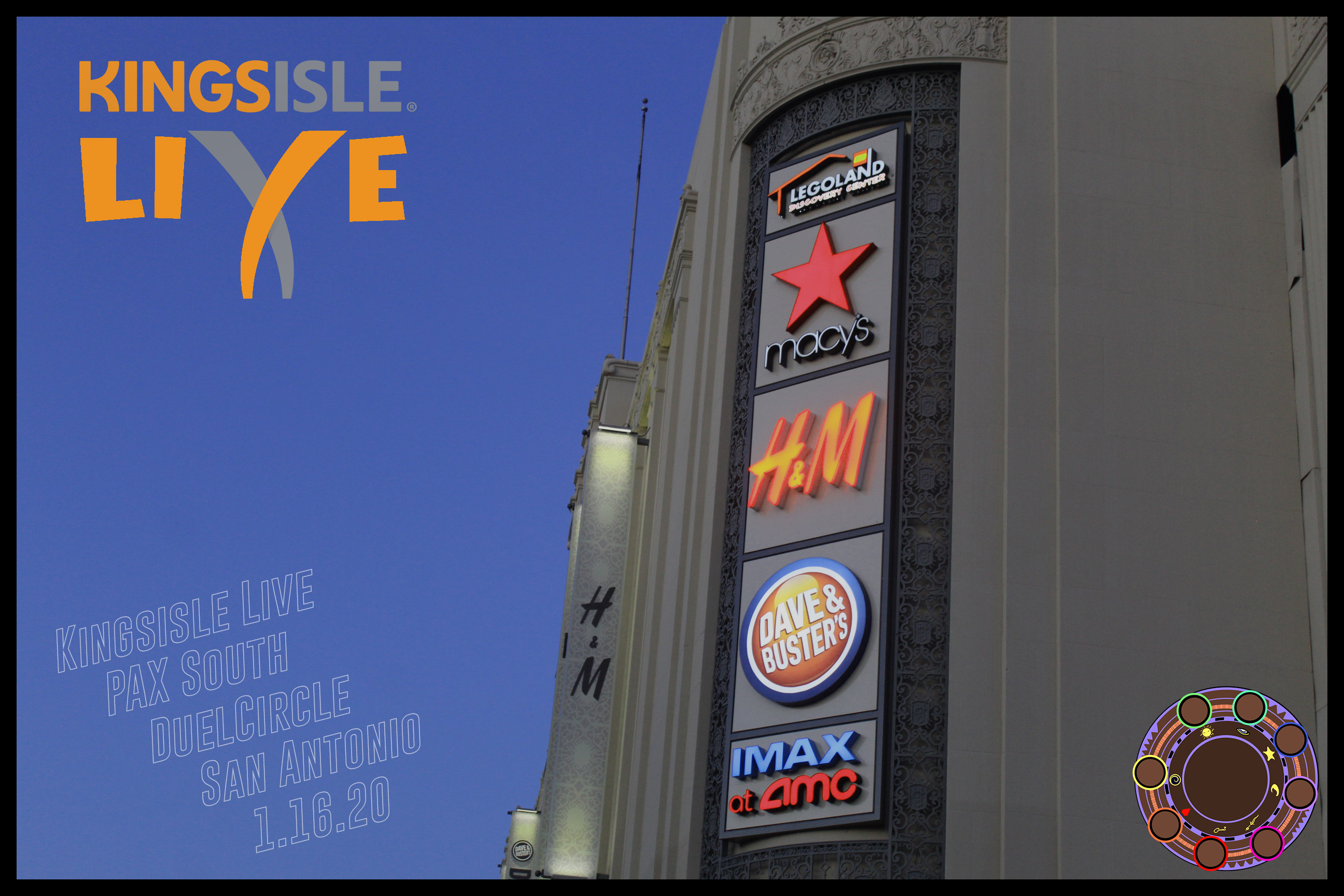 DuelCircle's 5th Anniversary Fiesta Party will be held on Thursday, January 16th from 6-10pm at Dave & Busters located within Rivercenter Mall, just steps away from the historic Alamo and the Henry B. Gonzalez Convention Center. This event is free of charge for the entire community!
(Image/Update)
We're proud to announce that during the first half of the party, we'll have KingsIsle join us for the first-ever Live Audience Community Hosted KI Live in San Antonio. That's right, you'll be able to watch all of the action as we chat with the KingsIsle team at 8pm Eastern/7pm Central!
The show will be streamed Live on the KingsIsle Twitch account and will feature community-based content alongside in-person interviews and special surprises too!"
This show will be similar to that of a pre-recorded "KI *Not* Live" episode in a sense, except it will not be prerecorded, it will be streamed Live on the KingsIsle Twitch account. The show will feature community-based content alongside in-person interviews and special surprises too!
Stick around for DuelCircle's Game Night during the 2nd half of the party! Test your knowledge about PAX, DuelCircle, KingsIsle, and the gaming community at large with live trivia. Compete on-stage against other attendees in 4-player Smash Ultimate matches. Flex your funny bone in our venue-wide Jackbox gameplay!
Throughout the night we'll hold raffles for tons of awesome tangible prizes from DuelCircle, KingsIsle, our sponsors, and more. Oh, and we're bringing back MSPaint Manders, but IRL!
---
Event Ticketing
Seating is extremely limited! Wave #1 of Free General Public ticketing is currently open via Eventbrite!
Wave #2 of Free General Public ticketing will open on Monday, December 16th at 12pm CST.
In order to prevent scammers or bots, potential attendees who register for a ticket will need to provide DuelCircle with proof of purchase of a PAX badge with their confirmation ID, located on your receipt. In the event that local residents wish to attend the event without attending PAX South, they may do so. We will only need a copy of their valid government-issued ID to verify. Information will remain confidential and will be destroyed after PAX South.
In the event that tickets become unavailable, a waitlist will begin where attendees can sign up for the potential chance to receive a last-minute ticket on a first-come, first-served basis. Waitlisted attendees are not guaranteed seating in the private event space but may sit in other areas of Dave & Busters if we reach the fire code.
---
Venue Information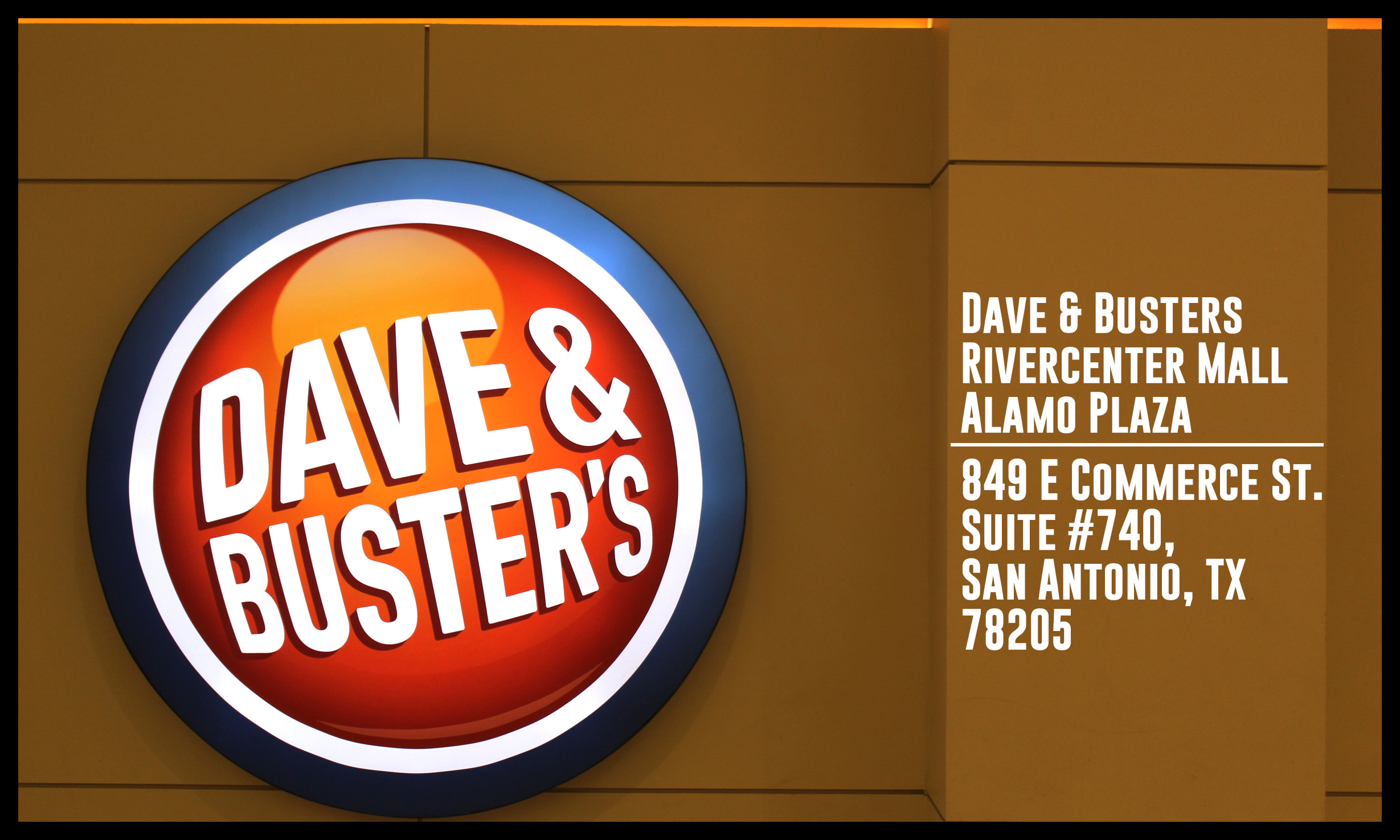 Dave & Busters is located on the 2nd Floor of Rivercenter Mall located at 849 E. Commerce St. Suite #740, San Antonio, TX 78205. Rivercenter Mall is in close proximity to the Henry B. Gonzalez Convention Center and the Alamo.
All attendees will be required to provide a valid government-issued ID prior to entry unless they are an underaged attendee with a parent or guardian 25+, who agrees to be responsible for the conduct, supervision, and safety of the underage attendee since Dave & Busters is licensed as a restaurant and bar. The name used during event registration must match the name on your ID in order to gain entry into the event space. During check-in, all attendees will be subject to bag screenings by Rivercenter Mall security personnel. After check-in, each attendee will receive a wristband allowing them to sit in the general seating area of the Riverwalk Room.
(image)
Any filming or photography intended for commercial use, including journalism must have expressed written consent from Dave & Busters, Rivercenter Mall, and/or DuelCircle 72 hours prior to the event (Monday, January 13th, 2020). This includes the use of tripods, monopods, and selfie sticks. Filming in the Gameroom is strictly prohibited. Dave & Busters, Rivercenter Mall, and/or DuelCircle reserve the right to revoke permission for the use of photographic or video equipment at any time for any reason.
Notice of Filming
Please be aware that by attending this event, you may be captured on film or video, and your image and likeness may be used in film or photography. By entering the private event space, and in consideration of your having access to this facility, you irrevocably consent to your voice, name, and or likeness being used without any compensation in the livestream, and in other productions in any and all media now known or later devised. By attending the event, you are waiving any rights of privacy and personality and grant DuelCircle, KingsIsle Entertainment, Dave & Busters, Rivercenter Mall, and UTSA Multimedia the permanent and unrestricted use of any content shot containing your image, voice, and/or likeness.
---
Parking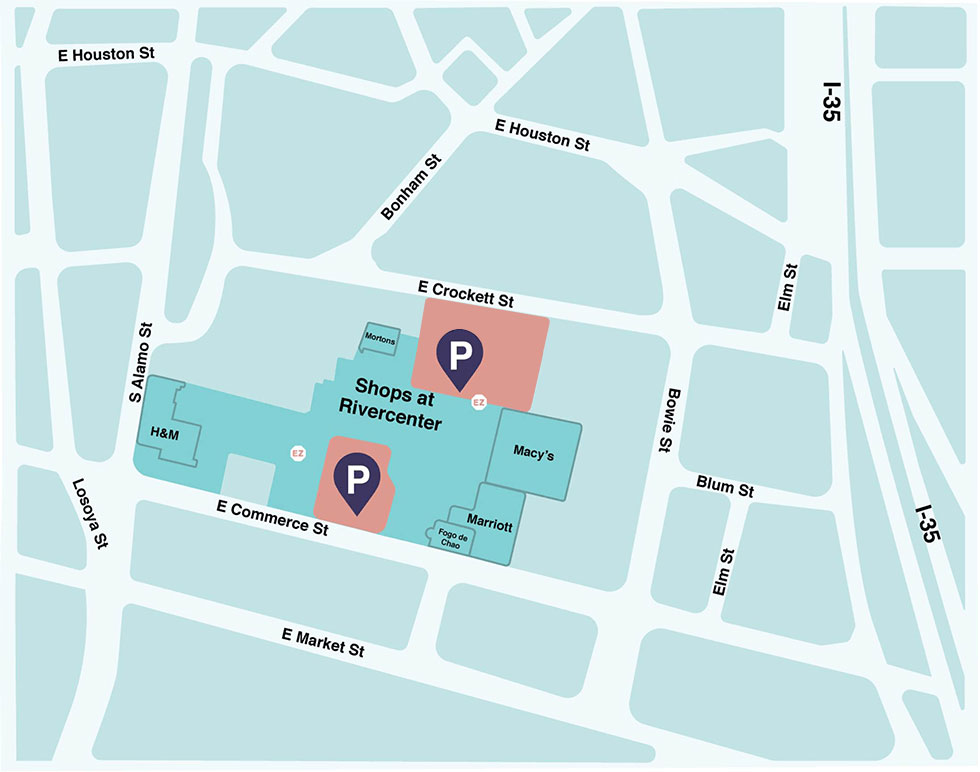 We highly suggest that the general public try to park at either the Crockett St. or Commerce St. Garages since they are the closest to the mall/venue.
Parking availability may be limited in the downtown area due to the close proximity to the Henry B. Gonzalez Convention Center and other PAX South festivities. You can reserve parking ahead of time online through Platinum Parking via Rivercenter Mall's website. Parking typically costs between $10-$20 in the downtown area.
---
Menu
Dave & Busters have graciously offered our attendees a limited menu with vegan and gluten-free options available, delivered straight to each table. Unfortunately, attendees will not be allowed to bring in outside food and/or drinks into the venue. Those who do so will be asked to either dispose, consume of, or return the food and/or drinks back to their car/hotels.
In our event space, there will also be 2 bartenders taking drink orders. If our attendees would like an alcoholic beverage, they may do so at their own discretion as long as they have a valid government-issued ID and are 21+. We only encourage that our attendees drink responsibly and have a designated driver on hand. Bartenders will cut people off in order to maintain safety.
We will release the limited menu closer to the event date.
---
Accommodation Requests
In the event that attendees need an accommodation to fully participate in our event, please email events@duelcircle.com no later than 72 hours prior to the event (Monday, January 13th, 2020) so that we may assist. Any accommodation requests made after Monday, January 13th, 2020 will be handled on a case-by-case basis. DuelCircle will do everything we can to honor any last-minute accommodation requests to the best of our ability, but cannot guarantee after the deadline.
---
We're so excited to celebrate our 5th anniversary in the alamo city this upcoming PAX South. We are beyond thrilled to be returning to San Antonio and we hope you are just as excited too! Countless hours of planning, research, discussion, and execution were spent on making this experience happen. It's not easy, but with all that settled, we're proud to have finally let you in on our little secret.
If you have any questions, send us an email at events@duelcircle.com and we'll get back to you as soon as possible.
We'll see you in SA, partner.