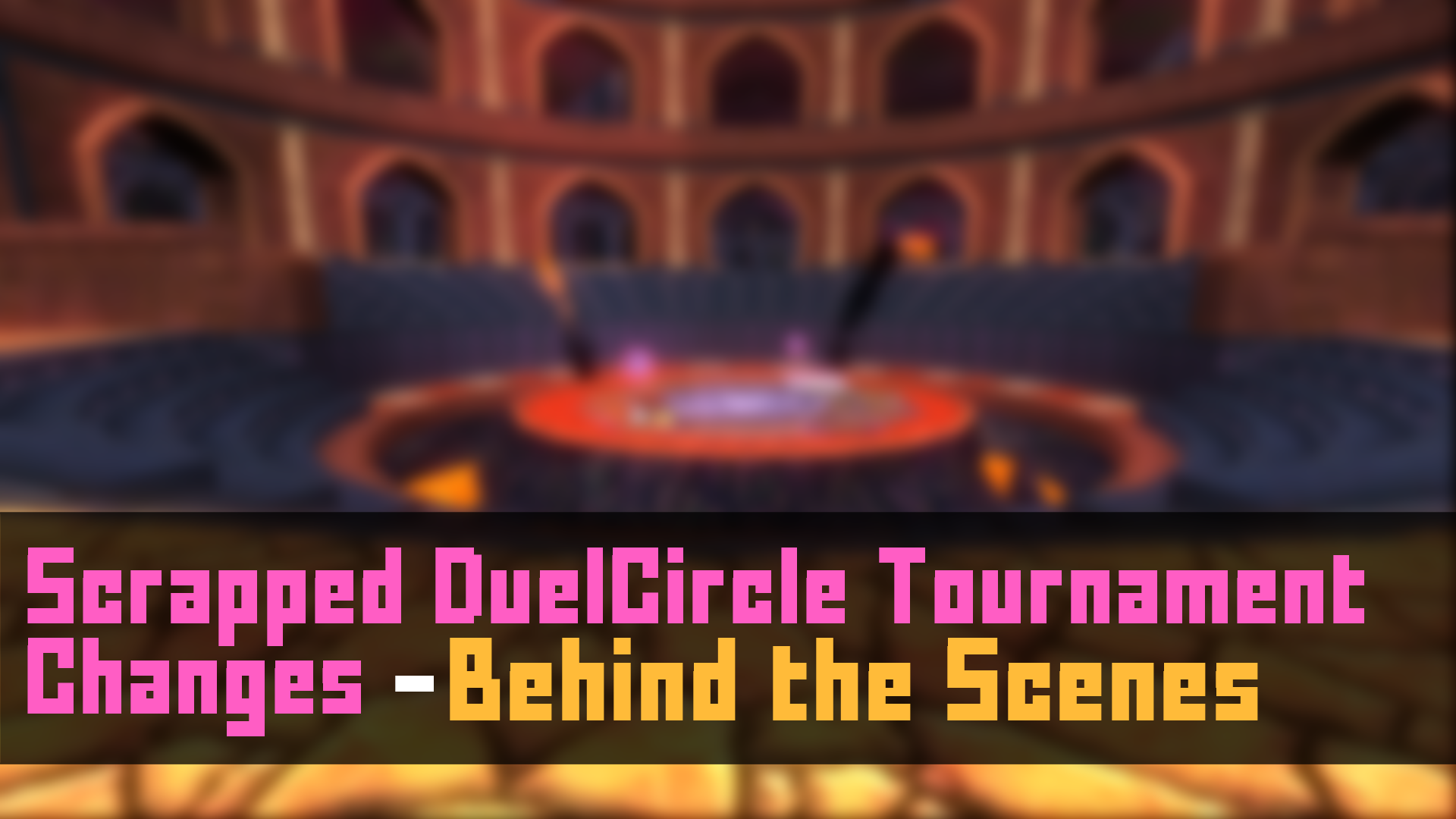 Behind The Scenes: Scrapped DuelCircle Tournament Changes
Hey there! Mike here, DuelCircle's Lead Organizer. Some of you may know me as the "tournament commissioner" in a sense. I'm the guy behind the scenes who directs every aspect of DuelCircle. From working with our broadcast partners to our elite tournament team along with our seasonal gameday referees. I'm the one who makes sure that we're putting out a structurally solid event.
This year, our goal was simple. We opted into being more transparent with each change we make when it comes to our flagship tournaments. We value your questions, comments, and concerns and strive to improve the tournament constantly. In our 4th year in running these tournaments and being branded as "DuelCircle", we've made significant changes compared to our very 1st tournament in 2015.
As we approach the beginning of our 1st tournament in 2019, we had considered numerous options to make our tournaments better. Below you can find articles about our original intentions for making sweeping changes.
Today, I want to give an update on what we had been doing during the offseason and shed some light onto the current state of Luau.
---
After the conclusion of our last tournament, Clash '18. We realized how our tournaments have begun to get stale. There wasn't really any new exciting changes. Things just didn't seem exciting and different. Although Clash '18 turned out to be one of our best tournaments in terms of how we ran the tournament near flawlessly, there were numerous complaints about our rules and the tournament structure itself.
During the Fansite Festival, our goal was to double-down on the effort into revamping the tournament entirely from the ground up. Well, that didn't go too well.
We've received numerous questions about the changes we had promised. Right now if you were to look at the tournament, everything looks the same. The only difference is a slight revamp of our general rules and additional minor policy changes. Many of you may think that we may have neglected the tournament and that's why there were no significant changes. I'm here to debunk those thoughts.
---
The proposals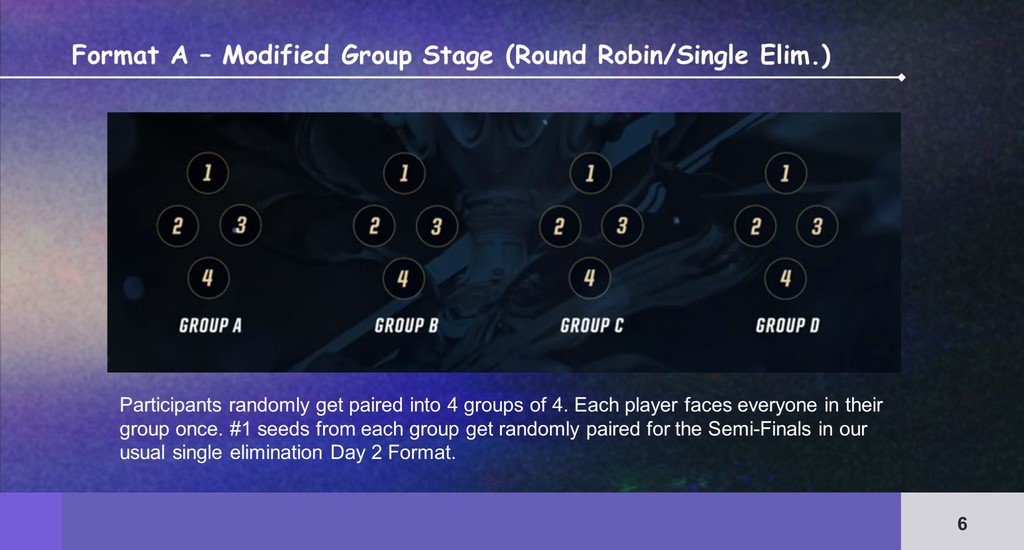 The rundown:
4 groups of 4, each participant faces everyone in their group once.

Top seed in each group advances.

12 total matches per group (48 matches in Day 1 if 16 participants) plus 3 matches (best-of-three) in Day 2 for a total of 51 matches.
Allows for participants to lose in the group stage but still potentially have a chance to advance based on overall group record.
If there are ties, head-to-head match results or match time will determine the winner.

If a 4-way tie occurs, participants would be randomized into a single elim. bracket with the winner advancing into Day 2.

After the conclusion of the group stage, normal single elim. semifinals/finals best-of-three matches would have taken place.
Why we didn't like Format A:
The problem with Format A was the amount of matches for such a small tournament. Having a 51 match tournament is similar to doing a normal single elimination tournament for 32 people, yet it's the same number of matches for half the people. Although you'd get a better sample of who's actually deserving to advance, it just didn't seem viable, especially if we had 32+ participants wanting to compete.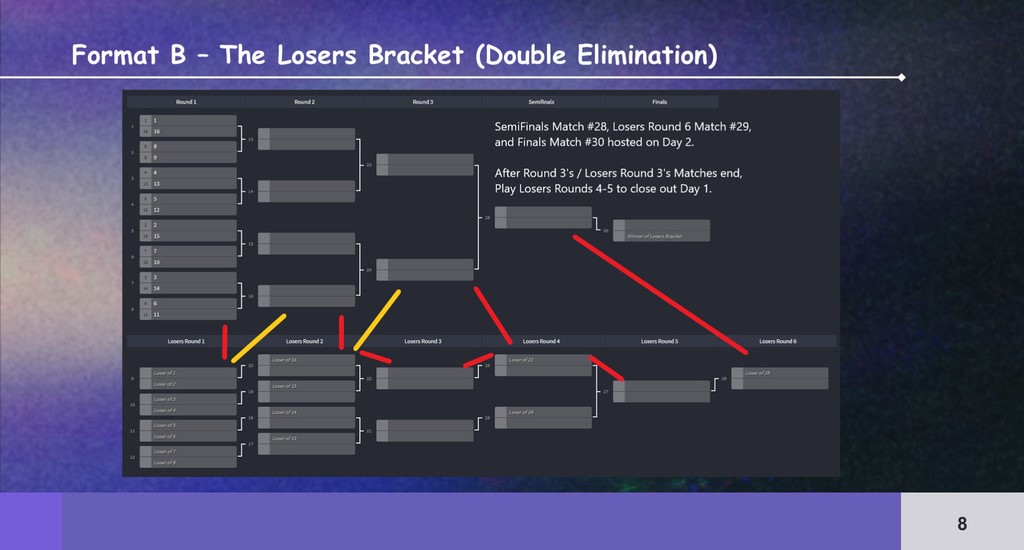 The rundown:
Format B is a standard double elimination tournament bracket.

Basically, if you lose a match, you can still compete in the losers bracket and still reach the finals.

16 total winners bracket matches, 14 total losers bracket matches, 30 total matches. (If only 16 participants).
How Day 1 would look:

Round 1
Losers Round 1
Round 2
Losers Round 2
Round 3 AND Losers Round 3 Simultaneously
Losers Round 4
Losers Round 5

How Day 2 would look:

Semifinals Match #28
Losers Round 6 (Match #29)
Finals Match #30

The semifinals gamemode would repeat in Losers Round 6 (Match #29) with the loser of the semifinals having the advantage of competing already under the same gamemode.
Why we didn't like Format B:
Honestly, this was the format we liked the most out of our 3 proposals. We really felt that this could shake things up enough to where people would appreciate the fact that they'd have a second chance to win. The format itself is flexible for 32 or even 64 participants, the only downside is the fact that it would take much longer because the "losers bracket" feels as if it's a separate tournament. We weren't necessarily sure if we wanted to extend the tournament to another day or two.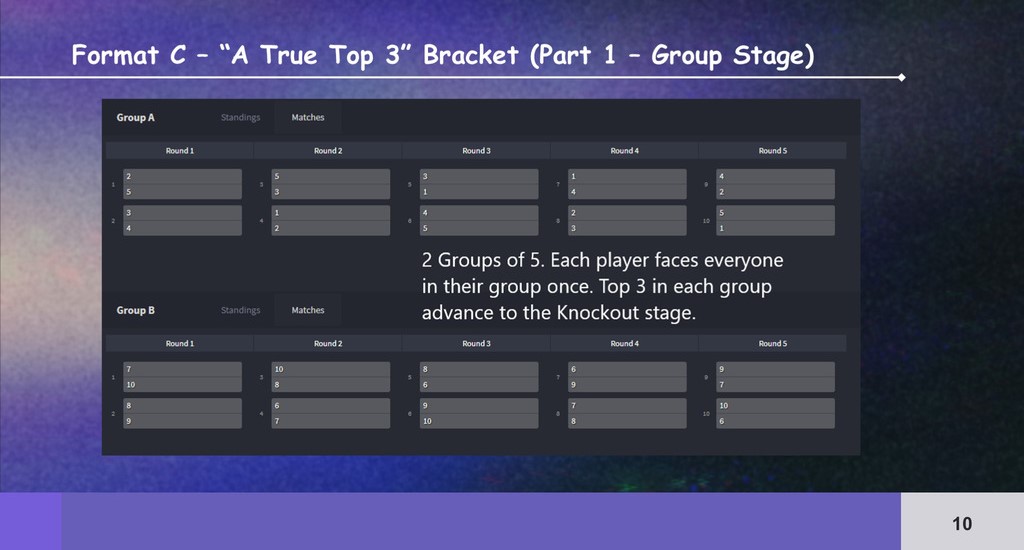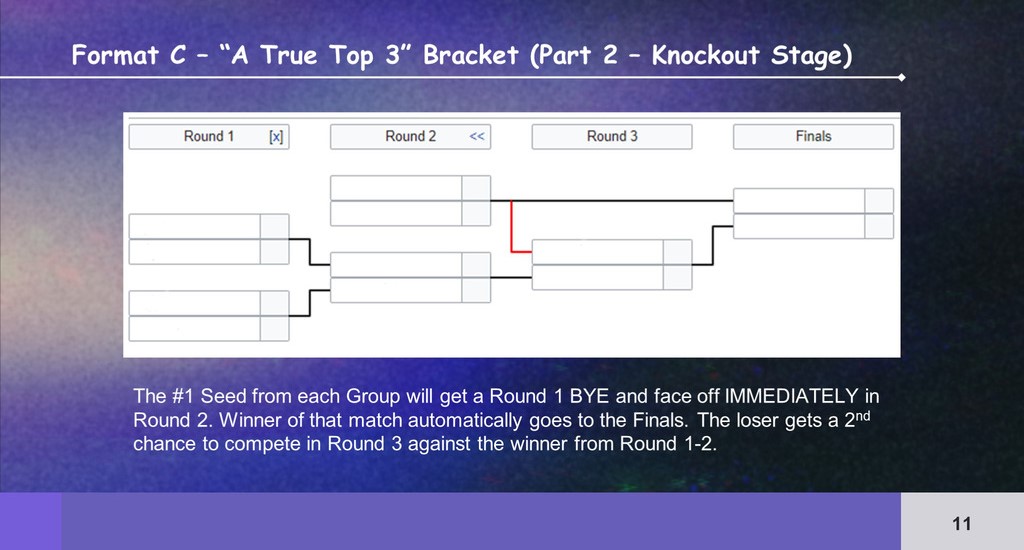 The rundown:
2 groups of 5. Each player faces everyone in their group once similar to Format A.
The Top 3 participants in each group advance into the knockout stage.

The #1 seed in each group gets a BYE in round 1 of the knockout stage and will face off immediately against each other in Round 2.

This would create a "Juggernaut Match" between the best participants from the group stage.

The winner of the "Juggernaut Match" automatically would advance to the Finals.
The loser gets to compete in Round 3 against the winner from Rounds 1-2.

10 total matches per group (20 matches in Day 1 if 10 participants) plus 6 matches (best-of-three) in Day 2 for a total of 26 matches.
You can still lose in the group stage and have a chance to advance (similar to Format A), as well as lose while being in the "Juggernaut Match".
Seeds 3-6 would be randomized in the knockout stage as if you're competing in a normal single elim. tournament.
The goal is that the loser from the "Juggernaut Match" can lose to their opponent and "prove themselves" against the winner from Rounds 1-2 in order to make it to the Finals, thus creating a true Top 3.
Why we didn't like Format C:
This tournament format is extremely wordy and it would create confusion. We would have to create promotional materials explaining how this format works because it isn't something that has really been done before. This format also limits the tournament to only 10 participants and isn't something that would work well if we had 30+ participants.
---
Why we decided to stick with the current/original format
After surveying our seasonal gameday referees, members of the community, and actually testing out each format. We really had to make the decision between either the current format or Format B. We looked at our participant numbers (which are somewhat flawed because you have to factor in last minute dropouts, invalid entries, etc.) and looked at what our projected participant numbers might be for Luau.
We also knew that we haven't been marketing the tournament out as well either. Those of you might have noticed that we recently went to Reddit along with the official Wizard101 forum to promote the tournament. We figured that if we promoted the tournament in new places, we could broaden our reach and attract new prospective participants. After factoring everything, we decided that it simply wouldn't be feasible whatsoever to do Format B in a situation where we have potentially 64 participants.
Luau '19 is the first tournament where we feel that sticking to the original plan would work best if we had an influx in participants (similar to how the 1st Clash and Luau was). We also made some noticeable changes which you can learn about on our Luau '19 "megapost" such as only having gamemodes in the Semi-finals/Finals, or the added prize of being automatically selected to participate in the next tournament if you reach the Top 8 (Day 2).
---
Overall, I hope this gives you some insight into what our plans were. We're still trying to make our tournaments a great experience and always are accepting suggestions into how we should shape things. As far as Luau '19 goes, we're still making adjustments for our general rules. We've seen your concerns and we're currently conducting testing and will release a #Changelog later in the month.
Luau '19 signups for both participants and referees are currently open if you're interested. You can check out all things Luau '19 right here.